Nanarland chronique pour vous Lastikman
LASTIKMAN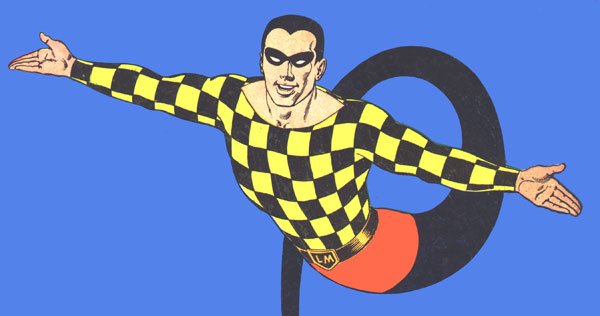 Real Name: alien/original comics version Unknown
2003 movie Hilario
2004 movie Adrian
Identity/Class: comics Extra-terrestrial;
movies Human mutate
Occupation: comics Unknown
2003 movie Physics teacher
2004 movie student/fast food clerk
Affiliations: Captain Barbell; Darna
Enemies: comics Unknown
2003 movie Stryker
2004 movie Lastika, Alfonso and Reden (father and son werewolves)
Known Relatives: 2003 movie Lolo Pablo (grandfather); Elmer (father, deceased); Remedios (mother, deceased)
Aliases: Larry
Base of Operations: The Philippines
First Appearance: Aliwan Komiks (1964)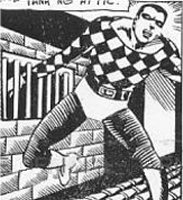 Powers/Abilities: Able to stretch parts of his body like they were made of elastic, allowing him to reshape himself into whatever form he desires. Bulletproof. His costume is a part of him, and he cannot remove it.
History: (original comics version) Lastikman is an alien from another planet, who became trapped on Earth and decided to fight crime.
(2003 movie version) Young Hilario is near a rubber tree when a meteor strikes it, and somehow gains powers of elasticity. His grandfather inspires him to use his new found powers to do good deads, and thus honour the memories of his dead parents. Hilario grows up to become a Professor in physics, and also the superhero Lastikman.
(2004 movie version) Young Adrian - a lanky teen-ager whose father became a drunkard after the death of his mother - was mauled to death by illegal loggers whom he prevented from cutting the trees in the forest. He was left lifeless under a rubber tree, which revived him and gave him special power.
Comments: Created by Mars Ravelo.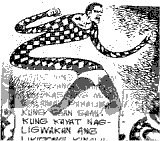 Lastikman began as a comic book character. He turned up in both Kampeon Komiks (Champion Comics) and Aliwan Komiks.
Most recently he has returned to comics in 2003 in a mini-series published by Mango Comics.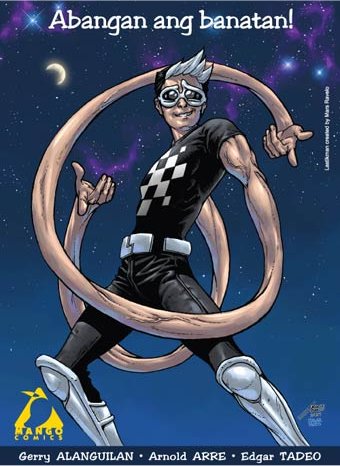 The next "Modern Age" Lastikman comicbook will be a 52-Page "one-shot" comic to be released December 2004 by Mango Comics in time for the new "Lastikman" movie starring Mark Bautista (see below). The comicbook and the movie, concept wise, will be independent of each other. The writer of this Lastikman one-shot is Gerry Alanguilan, who also worked on DC Comics' "Superman:Birthright", with art by Arnold Arre and colouring by Edgar Tadeo. Click here to see a preview page from the comic, kindly donated by Gerry.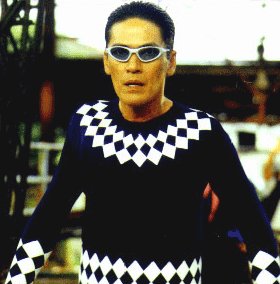 Lastikman has also been adapted for the cinema; in 2003 he was to seen in "Lastikman", starring Vic Sotto in the title role, and Jun Asidera wrote in to tell me of an earlier outing in the 1968 when Von Serna played the part.
Jan K. Ilacad of Octoarts-Orbit Music Group sent me some movie and soundtrack credits for this film:
LASTIKMAN Movie (2003) produced by: Octoarts films and MZet productions
LASTIKMAN original theme song words and music by: Jan K. Ilacad of Octoarts Music
LASTIKMAN original theme song arranged by: Jojo Espino of archangel productions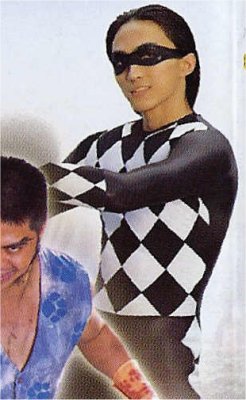 Additionally he recently appeared in a dream sequence in the latest Captain Barbell movie, played by Christopher 'P.J.' Malonzo. The image on the right, provided by Raffy, is from the soundtrack CD by Regine, used with permission.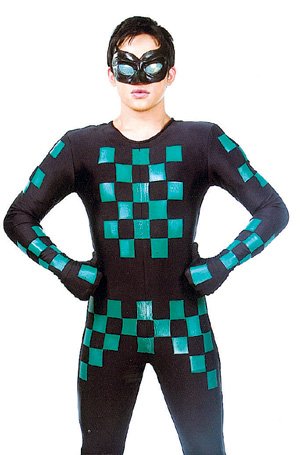 And it seems like Lastikman movies are a bit like buses - none for ages, then three come along all at once. Because in August 2004, Viva Productions Inc., a Filipino company, announced they had just aquired the film rights to Lastikman, and have cast actor Mark Bautista in the role. Director Mac Alejandre directed the 2003 Captain Barbell starring Bong Revilla.
The 2004 movie is officially titled as Mars Ravelo's Lastikman: Unang Banat.
Thanks to Raffy for almost all the information and images used on this page. Thanks to Gerry Alanguilan for information about the comics version of Lastikman, and for permission to use the image at the top of the page and the Mango Comics image of Lastikman. Thanks to Chris Fabian for additonal information about the 2004 movie.
CLARIFICATIONS: Not to be confused with
"The No. 1 Blockbuster Movie of 2003", oui Madame ! ("Ang bagong super hero ng bayan" signifie grosso modo "le nouveau super héros local" ou "le dernier né des super héros philippins").
Peu à peu, film après film, nous affinons nos connaissances sur les super héros philippins en général, et ceux nés sous la plume du dessinateur Mars Ravelo en particulier. Ainsi, après les personnages de
Darna
et de
Captain Barbell
, c'est au tour du super héros Lastikman d'être mis à l'honneur sur Nanarland. Si la première est un décalque philippin de Wonder Woman et le second un croisement entre Superman et Captain Marvel, Lastikman a lui tout l'air d'un beau copié-collé de Plastic Man, ce personnage créé par l'éditeur Quality Comics (puis intégré à DC Comics) qui a la faculté d'étirer et de modeler son corps à volonté. Lastikman présente en effet rigoureusement les mêmes caractéristiques. J'avais d'abord fait le rapprochement avec Reed Richards alias Mr. Fantastic, des
4 Fantastiques
, jusqu'à ce que mon collègue Nikita, amateur impénitent de comics, ne m'apporte son éclairage d'érudit : outre la proximité patronymique (Plastic Man / Lastikman), le look, les pouvoirs de transformation (qui sont plus étendus que ceux de Mr Fantastic) et la personnalité de rigolo de Lastikman correspondent beaucoup plus à Plastic Man (alors que Reed Richards/Mr Fantastic est plutôt du genre pas drôle). Bref, tout ça pour dire que les "créations" de Mars Ravelo ont toujours été sous forte influence et que la manie de copier les gros succès américains ne se limite pas au cinéma.
Reed Richards, plus connu sous le nom de Mr. Fantastic, membre des 4 Fantastiques.
Plastic Man.
Un album "one-shot" de Lastikman sorti en décembre 2004 chez Mango Comics.
Alors que
Darna
et
Captain Barbell
ont fait l'objet de nombreuses adaptations au cinéma, Lastikman s'est lui fait plus rare sur les écrans, probablement à cause des contraintes techniques qu'impliquent l'animation d'un tel personnage. Il semble pourtant qu'il existe une version en noir et blanc datant de 1968 dont on n'ose à peine imaginer à quoi elle peut ressembler.
La première apparition du personnage en 1964 dans Aliwan Komiks.
En 2003, pour surfer sur la vague des films de super héros qui bat son plein aux Etats-Unis avec les Hulk, Spiderman, X-Men et autres Daredevil, les studios philippins se lancent dans la réadaptation avec effets spéciaux numériques
Made in Manila
de leurs propres héros de comics pinoy. Ainsi, lorsque Viva Films et Premiere Productions (la firme de
Cirio H. Santiago
, qu'on retrouve producteur exécutif) mettent en chantier un nouveau Captain Barbell (Viva Films semblant détenir les droits – on leur devait déjà
la fabuleuse version de 1986
), OctoArts Films et M-Zet TV Production se rabattent eux sur une adaptation de Lastikman. Comme rien n'est simple et qu'il arrive souvent, dans les comics comme dans les films, que les personnages créés par Mars Ravelo se croisent au cours de leurs aventures, Lastikman et
Darna
font un
caméo
dans la version 2003 de Captain Barbell le temps d'aider celui-ci à rosser quelques méchants... au cours d'un rêve.
Lastikman, interprété par Christopher "P.J." Malonzo, dans le film "Captain Barbell" datant de 2003.
Cette version 2003 de Captain Barbell, sans aller jusqu'à considérer qu'elle ne mériterait pas sa place sur Nanarland, nous aura parue globalement décevante, souffrant mal la comparaison (en tant que nanar s'entend) avec le festival de n'importe quoi qu'avait été la kitschissime adaptation de 1986 dont nous conservons un souvenir aussi vivace qu'ému. Même très en deçà de ceux des productions américaines, les effets spéciaux restaient à peu près honnêtes et le point faible du métrage demeurait finalement son rythme languide, le réalisateur Mac C. Alejandre accouchant d'un film de super-héros bavard de près de 2 heures (certes, le fait d'avoir vu le film en version originale tagalog non sous-titrée ne m'aura pas aidé à trouver le temps moins long). Du coup, c'est avec un enthousiasme plutôt modéré que je jetais un œil à ce Lastikman sorti la même année. La surprise n'en aura été que meilleure !
Il est en latex et sauve des vies tous les jours : mesdames et messieurs voici le préserv… euh, pardon, Lastikman !
Consacrons quelques lignes à l'histoire : dans la version originale sur papier, Lastikman était le dernier représentant d'une race d'extraterrestres aux organismes naturellement élastiques qui, échoué sur Terre et condamné à y rester, décidait d'y combattre le Mal. Dans notre film de 2003 en revanche, Lastikman est à la base un simple être humain, Hilario alias Larry, qui obtient accidentellement ses pouvoirs lorsqu'une météorite frappe l'hévéa (arbre producteur de caoutchouc) à côté duquel il se trouvait.
La genèse d'un super héros de comic-book...
Adolescent orphelin, binoclard et brimé, notre Peter Parker philippin se fait d'abord la main sur les brutes de son lycée avant de décider de mettre ses super pouvoirs au service du bon droit, histoire d'honorer la mémoire de ses parents décédés. Une fois adulte, il partage ainsi ses journées entre ses activités d'honorable professeur de physique et de super justicier élastique.
Ainsi, durant les deux-tiers du métrage, Lastikman tabasse du gredin et vole au secours de
bimbos
à un rythme étonnamment soutenu pour une production philippine. Puis survient l'inévitable deus ex machina : suite à un malentendu, l'homme élastique tombe en disgrâce aux yeux des médias et d'une partie du public (un peu comme Spiderman, quoi). Parallèlement, le freluquet Jepoy (Jeffrey Quezon), élève de Hilario ignorant la double identité de son prof, se bricole un super attirail en pianotant sur trois ordinateurs. Lui aussi était un intello binoclard brimé, désormais il fera payer au monde l'hostilité que celui-ci lui a manifesté sous le nom de Stryker. Bref, un boulot délicat pour Lastikman et un scénario transparent de bout en bout pour le spectateur.
La genèse d'un méchant de comic-book...
Ne tournons pas autour du pot plus longtemps : oui, Lastikman est à ranger parmi les nanars qui dépotent, essentiellement grâce à un rythme relativement soutenu et des séquences à base d'effets spéciaux déjà datés qui, par bonheur, abondent. Dès la scène d'intro, le spectateur a droit à la caricature sauce philippine de ce que le cinéma d'action de la fin des années 90 a pu inventer de plus clinquant et de plus m'as-tu-vu : le
bullet time
. Ce concept galvaudé, déjà outrancier à la base, se voit en effet poussé ici jusqu'à la parodie involontaire pure et simple : imaginez d'interminables rafales de balles mal incrustées défilant autour d'un héros goguenard avec des bruits de missiles de croisière. Vous imaginez mal ? Alors jetez un oeil à l'extrait de cette séquence proposé dans l'onglet vidéos.
De même qu'au royaume des aveugles les borgnes sont rois, aux Philippines Lastikman se pare fièrement de l'appellation "
blockbuster
". Exposé sur le marché international en revanche, le film ferait plutôt penser à une production
Nu Image
des débuts. Certes, depuis les années 80 les Philippins ont fait de sacrés progrès en matière d'effets spéciaux, mais quand on garde en tête que Lastikman date de 2003 et qu'on repense au Spiderman de Sam Raimi, on se dit qu'ils ont beau avoir fait du chemin, Manille a toujours le même nombre de rames de métro de retard sur Hollywood qu'il y a 20 ans.
Une technique très cheap en matière d'effets spéciaux : le zoom numérique ! En gros on filme un perso sur fond bleu ou vert (ici Stryker), on l'incruste dans un plan donné et on l'agrandit ou on le rétrécit (zoom in / zoom out) afin de renforcer l'illusion du mouvement.
J'aurais tendance à distinguer deux catégories de films aux effets spéciaux ratés : ceux qui ont clairement honte de leurs effets et tentent de limiter autant que possible leur utilisation (du genre film de monstre ne montrant que 3 mn une créature que le public aura attendu pendant une heure trente, et encore en la filmant de loin dans la pénombre), et ceux qui s'en foutent, parce qu'ils sont satisfaits de leurs effets ou simplement décomplexés, et qui du coup ne rechignent pas à aligner les séquences riches en artifices visuels foireux. Lastikman appartient très clairement à cette deuxième catégorie, un ancrage essentiel qui, avec la question du rythme, distingue souvent un bon nanar d'un gros navet.
Le film enchaîne donc sans temps mort les morceaux de bravoure qui voient l'homme élastique prendre toutes les formes possibles et imaginables – de la roue de vélo au trampoline en passant par le ballon de plage – et accomplir, avec panache et une nanardise qui fait feu de tout bois, sa routine de super héros. Une vraie jubilation !
Le film prend une dimension supplémentaire avec l'arrivée du méchant-malgré-lui Stryker. Sorte de mélange entre le bouffon vert (pour le mode de transport - Spiderman aura décidément été pillé sans vergogne) et le bassiste Gene Simmons de Kiss (pour le côté "hystérie échevelée"), le personnage qu'incarne Jeffrey Quezon est un modèle patenté d'ultra-cabotinage insane. L'acteur en faisait déjà des tonnes dans le rôle de l'étudiant très nerd Jepoy : ce n'était pourtant qu'un simple échauffement, une vulgaire mise-en-bouche. Il faut attendre de le voir camper son alter ego démoniaque Stryker pour en prendre pleinement conscience : regard halluciné genre "je suis un malade" à la Brad Dourif, mimiques et gestuelle à la Louis de Funès sous speed, ricanements et hurlements perpétuels... nulle doute que l'on tient là un énième candidat sérieux au titre de champion du monde du surjeu.
Néanmoins, je ne vais pas vous baratiner, tel un camelot du nanar, à essayer de faire passer Lastikman pour un objet de compétition ultime à la
Turkish Star Wars
: il n'en a sans doute pas encore tout à fait l'étoffe (ou la défroque). Mais les nanars ayant en commun avec les vins qu'ils se bonifient avec le temps, gageons que le potentiel ringard fort prometteur de ce film atteindra sa pleine maturité dans quelques années.
Un grand bravo donc au réalisateur Tony Y. Reyes pour avoir su apporter ce qui, contrairement à un savoir-faire local certain en matière de ringardise, fait trop souvent défaut aux productions philippines : un minimum de RYTHME. La filmographie de ce réalisateur spécialisé dans les parodies s'étire en une longue liste de titres hauts en couleur (Once Upon a Time in Manila, Bobocop, Starzan, Goosebuster, SuperMouse and the Roborats, Ali in Wonderland etc. etc.) qui n'ont jamais eu l'honneur d'une sortie par chez nous, même en vidéo. Après Lastikman, Tony Y. Reyes enchaînera sur un autre film de super héros, Fantastic Man, toujours avec Vic Sotto dans le rôle titre, mais qui aurait la réputation d'avoir des effets spéciaux bien moins « réussis » que ceux de Lastikman… on rêve évidemment de mettre la main dessus !
Signalons l'existence d'une nouvelle adaptation des aventures de l'homme élastique sortie un an plus tard seulement, en 2004, par le studio rival Viva Films. Titrée "Mars Ravelo's Lastikman: Unang Banat", on retrouve aux commandes Mac C. Alejandre (réalisateur de Captain Barbell version 2003) et Mark Bautista dans le rôle titre. Apparemment, après le succès de leur film en 2003, OctoArts Films et M-Zet TV Production n'auraient pas réussi à conserver les droits du personnage pour lancer une séquelle. Les héritiers de Mars Ravelo auraient en effet réclamé aux studios la somme de 1,5 million de pesos philippins (soit environ 25 000 € avec le taux de change actuel), somme que Viva Films semble avoir payé puisque leur titre met bien en avant le nom du dessinateur.
La version 2004 de Lastikman produite par Viva Films…
...avec le jeune minet Mark Bautista dans le rôle titre.
Signalons enfin qu'à l'instar de
Darna
et du
Captain Barbell
, Lastikman a lui aussi eu droit à sa série TV à partir de 2007, avec Vhong Navarro dans le rôle titre, un acteur populaire aux Philippines vu entre autre dans Gagamboy (une parodie de Spiderman), D'Anothers ou encore le décevant Agent X44, reprise sur le mode parodique des aventures du célébrissime agent secret interprété par Tony Falcon dans
Sabotage
(lire l'addendum de cette chronique à ce sujet).
Lastikman version série TV 2007, avec Vhong Navarro.
John Nada : 3.75
Mayonne : 3.5
Labroche : 4
Wallflowers : 3
Rico : 3.5
Moyenne : 3.55